The Flying Spaghetti Monster will be discussed at the American Academy of Religion's annual meeting. The title: "Evolutionary Controversy and a Side of Pasta: The Flying Spaghetti Monster and the Subversive Function of Religious Parody."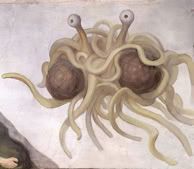 "For a lot of people they're just sort of fun responses to religion, or fun responses to organized religion. But I think it raises real questions about how people approach religion in their lives," said Samuel Snyder, one of the three Florida graduate students who will give talks at the meeting next Monday along with Alyssa Beall of Syracuse University.
The presenters' titles seem almost a parody themselves of academic jargon. Snyder will speak about "Holy Pasta and Authentic Sauce: The Flying Spaghetti Monster's Messy Implications for Theorizing Religion," while Gavin Van Horn's presentation is titled "Noodling around with Religion: Carnival Play, Monstrous Humor, and the Noodly Master."
Using a framework developed by literary critic Mikhail Bakhtin, Van Horn promises in his abstract to explore how, "in a carnivalesque fashion, the Flying Spaghetti Monster elevates the low (the bodily, the material, the inorganic) to bring down the high (the sacred, the religiously dogmatic, the culturally authoritative)."
Link via Boing Boing