How much would you pay for an exceptional brew? $10 a six-pack? $20 a six-pack? How about $5 an ounce?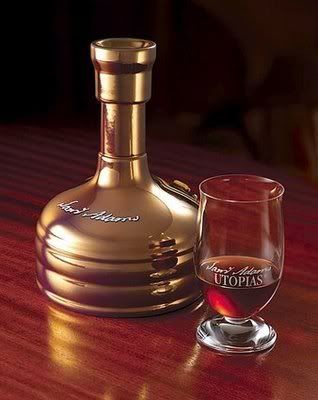 That's the minimum going rate for Boston Beer's Samuel Adams Utopias, which retails starting at $120 per 24-ounce bottle.
The country's most expensive beer is also the strongest. The 2007 edition of the vintage-dated biennial release clocks in at 27 percent alcohol by volume, more than five times the proof of the average American golden lager.
The Utopias container, a ceramic bottle molded to resemble a brew kettle, is a collectible in and of itself. The copper-colored liquid inside hasn't a bubble of carbonation. The first sensations are a viscous mouth feel and a sweet sherrylike flavor with nuances of toffee and maple. There are notes of vanilla and plum and a hint of charred wood. A long, lingering alcohol burn, more reminiscent of a cognac or brandy than a beer, is followed by a sweet burned-caramel aftertaste.
Source: Sun-Sentinel
via Spluch