John Gordon's Volvo took off after hitting a tree on a roundabout and flew until it crashed into the flats 15ft off the ground and facing backwards.

This was the incredible scene after a car cartwheeled more than 100ft through the air before embedding itself in a flat on the second storey.
The car smashed into a lounge where 19-year-old Laura Stevens had been a few seconds earlier.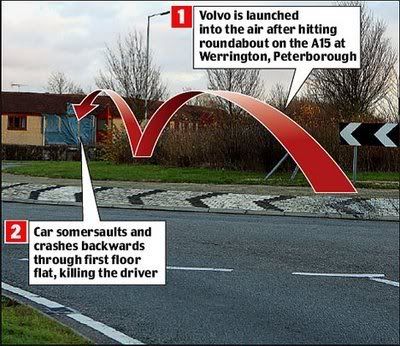 Emergency crews spent half an hour cutting free Mr Gordon, 31, but he later died from his injuries. His nine-year-old son, who was his passenger, survived with cuts and bruises.
Engineers had to spend three hours dismantling the wall of the flats in Werrington, Peterborough, before they could remove the car.
Source: This Is London