While great nations fretted over coal, oil and global warming, one of the smallest at the UN climate conference, Palau, was looking toward the heavens for its energy.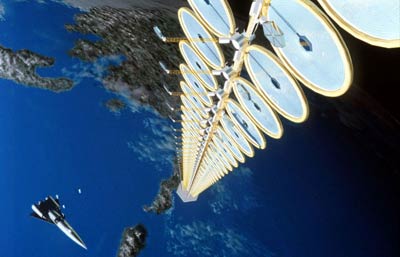 The annual meeting's corridors can be a sounding board for unlikely "solutions" to climate change – from filling the skies with soot to block the Sun, to cultivating oceans of seaweed to absorb the atmosphere's heat-trapping carbon dioxide.
Unlike other ideas, however, one this year had an influential backer, the Pentagon, which is investigating whether space-based solar power – beaming energy down from satellites – will provide "affordable, clean, safe, reliable, sustainable and expandable energy for mankind." Tommy Remengesau Jr is interested, too. "We'd like to look at it," said the president of the tiny western Pacific nation of Palau.
The defence department this October quietly issued a 75-page study conducted for its National Security Space Office concluding that space power – collection of energy by vast arrays of solar panels aboard mammoth satellites – offers a potential energy source for global US military operations.
It could be done with today's technology, experts say. But the prohibitive cost of lifting thousands of tons of equipment into space makes it uneconomical.
That's where Palau, a scattering of islands and 20,000 islanders, comes in.
In September, American entrepreneur Kevin Reed proposed at the 58th International Astronautical Congress in Hyderabad, India, that Palau's uninhabited Helen Island would be an ideal spot for a small demonstration project, a 260-foot-diameter "rectifying antenna", or rectenna, to take in one megawatt of power transmitted earthward by a satellite orbiting 300 miles above Earth.
That's enough electricity to power 1,000 homes, but on that empty island the project would "be intended to show its safety for everywhere else," Reed said in a telephonic interview from California.
Via Times of India