President Bush and Sen. Hillary Rodham Clinton again top Gallup's annual list of "most admired" men and women, the polling firm said Wednesday.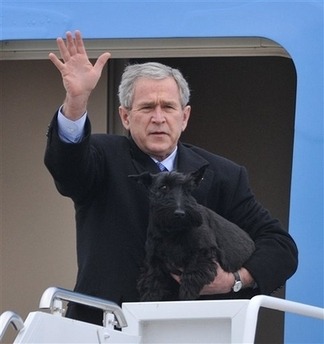 President Bush arrives at TSTC airfield, Wednesday, Dec. 26, 2007 in Waco Texas to spend the rest of the holidays at his ranch near Crawford Texas.
According to Gallup Poll editor-in-chief Frank Newport, US presidents typically come in first in this yearly rite, done this month as part of the latest USA TODAY/Gallup Poll.
Bush's support — he was the choice of 10% of 1,011 Americans polled — was the lowest since he took office and just 2 percentage points above the No. 2 choice, former president Bill Clinton.
Sen. Clinton, now a Democratic presidential candidate, has been No. 1 on the list of most admired women since December 2002. First lady Laura Bush was the top choice in 2001. This year, the senator from New York was the choice of 18%, her highest rating since December 2000, but just barely above entertainer Oprah Winfrey.
The top five women: Clinton, 18%; Winfrey, 16%; Secretary of State Condoleezza Rice, 5%; actress Angelina Jolie and Laura Bush, 3%.
The men: Bush, 10%; former president Clinton, 8%; former vice president Al Gore, 6%; Democratic presidential candidate Sen. Barack Obama, 5%; and evangelist Billy Graham and former South African president Nelson Mandela, 3%.
Gallup says each number has a margin of error of +/- 3 percentage points. The national telephone survey of 1,011 adults was conducted December 14-16.
Via China Daily