The total number of billionaires in China has risen to second place in
the world, just behind the US, Yangcheng Evening News reported on
Sunday.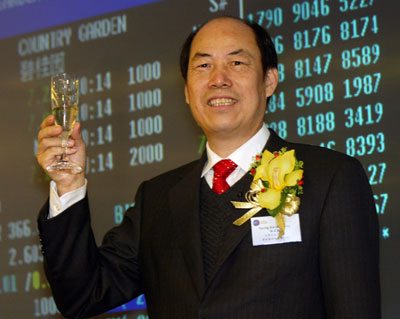 The 2007 top 500 Chinese magnates list was recently released in Hong
Kong, the combined wealth of the 500 magnates exceeds 4,342.6 billion
yuan (US$ 587 billion). The number of Chinese magnates with more than
one billion dollars in assets has reached 146, compared to 85 last year.
The list, made by World Entrepreneur magazine, covered magnates in
the Chinese mainland, Taiwan, Hong Kong and Macao. The Kwok brothers of
Sun Hung Kai Properties in Hong Kong took top place on the list. Yang
Huiyan of Country Garden and the family behind Nine Dragons Paper
(Holdings) Limited were the top two magnates from the mainland.
According to statistics, there are more than 18,000 people in China
with more than a hundred million yuan in wealth, 440,000 with 10
million, and the nation's number of millionaires now accounts for 3.3
percent of the total population.
The stupendous increase in Chinese magnates is been attributed to
high-speed increases in the stock and property markets. Among the 500
magnates on the list, 128 are from the real estate industry.
Via China Daily