Animal health experts are expected to begin inspecting a number of poultry farms today after three wild swans tested positive for the deadly H5N1 strain of bird flu.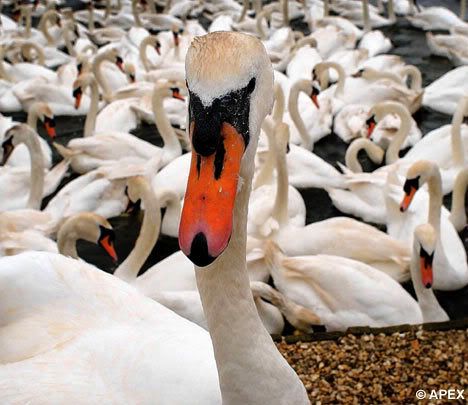 Restrictions on the movement of captive birds are in place following the discovery of the dead swans on the Abbotsbury Swannery, an open reserve in the Chesil Beach area of Dorset, during routine surveillance.
The Health Protection Agency (HPA) is monitoring about 12 staff at the reserve for signs of the disease, though the risk of infection is said to be low.
John Houston, general manager at Abbotsbury Tourism Ltd, said the birds were found by a member of staff at the swannery and Defra was notified as part of standard procedure.
"Our main concern is the welfare of the swans, our staff and the general public," Mr Houston said.
"We are working closely with Defra to ensure that this outbreak is contained and that the number of swans affected is limited."
Mr Houston said the HPA had advised there was almost no risk of infection among swannery staff, but they had begun a course of Tamiflu tablets as a precaution.
Three of the staff are full-time, while the others were identified as coming into contact with the swannery for different reasons, including deliveries.
The Department for the Environment, Food and Rural Affairs (Defra) has set up control and monitoring areas around the Abbotsbury site to try to contain the outbreak.