What's better than getting a free T-shirt at a sporting event? Catching it after it was fired out of a T-shirt cannon, of course!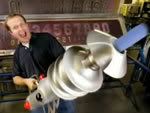 Eric Hoover of The Chronicle of Higher Education writes about Jake Wilson, whose company, Air Cannons, Inc., sells CO2 guns that blast T-shirts high into the stands of sports arenas nationwide:
Each launch helps colleges obey the first rule of modern sporting events: Entertain relentlessly.

Marching bands? Dinosaurs from an era of longer attention spans. Today's paying customers want the wonders seen in the palaces of professional sports: videos, lasers, and towers of flame.

And they want to hear the whoosh of the Twister 325, a 12-pound launcher whose 24-inch barrel can propel a T-shirt over 100 yards. The top seller in Mr. Wilson's five-gun line, the Twister, costs $2,195. A lifetime warranty runs $700.

A sound investment, says Mr. Wilson, 35, a pioneer in this niche industry. A few years ago, he was working a construction job. He didn't know much about air cannons, but he did know a welder named Terry David, who was friends with Rocky the Mountain Lion, the mascot for the Denver Nuggets basketball team.

The connection proved fortuitous. In 1996 Rocky was looking for new ways to excite fans. So Mr. David rigged up a giant air gun in his garage. When the first T-shirts flew, Nuggets fans went wild. Soon, the company was born.