It speeds across the seas with the help of a breeze, just like the majestic clippers of the 19th century.
But this vessel uses something a little more modern to harness nature.
The MS Beluga SkySails, which set off on its maiden voyage from Bremen to Venezuela on Tuesday, is fitted with a giant computerised kite which soars far above the decks of the 10,000-ton ship.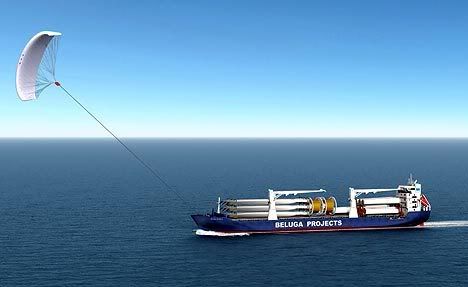 On a blustery day the kite can provide up to 35 per cent of the vessel's power, according to its creators.
If the £400,000 sail lives up to its billing, it will save the Beluga's operators 900lb of fuel a day, and take a slice out of the 800million tons of greenhouse gases the world's merchant fleet belches into the sky each year.
If the maiden voyage is a success, the team that came up with design hope to double the size of its kites to 320 square metres, and expand them again to 600 square metres in 2009. By 2015 they hope to fit out 1,500 ships.
The kite, made of waterproof textiles, flies at altitudes of 300 metres. It is linked to a computer that reads sea swells, wind speeds, propeller rotations and other data. When the wind is strong, the captain can throttle back on the engine and use kite power.
Niels Stolberg, chief executive of German based Beluga Shipping which helped create the technology, said: "It's important to look at the commercial side of this, the saving fuel costs, but also the CO2 aspect.
"In a few years, shipping companies will have to cut emissions or pay a price."
He plans to install the system on two more vessels twice as large as the Beluga SkySails by 2009.
However, by the 20th century, wind power was dismissed as primitive and unpredictable.
But if SkySails is a relatively elaborate solution, shipping companies seeking immediate answers to soaring fuel prices and the need to cut emissions are simply slowing down.
Fuel costs for the world's 50,000 merchant ships rose by as much as 70 per cent last year.