When cupid strikes at workplace, it might bring two hearts together, but it
adversely affects the speed and quality of work, according to a survey.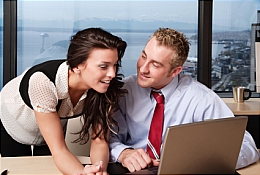 As per a report on 'Romance at
Workplace' by Teamlease Services, India's leading staffing company, at least 56
per cent of the respondents felt there was a negative impact on quality and
speed of work due to romantic liaisons at offices.

Several factors lead to an
office affair, including long work schedules and proximity with colleagues.
However, predominantly executives (44 per cent) attribute 'ambition to
move-up-the-corporate ladder' as one of the reasons for the romantic link-ups.
Employees saw getting involved with bosses as the quickest way to salary hike or
promotion.


It is just not the
single who were ready to mingle, even married men and women were getting
involved to a considerable extent, the report revealed.

At least one-third (34 per
cent) of the working executives in the corporate sector saw no harm in romancing
married colleagues, the survey conducted by global research firm Synovate for
Teamlease, said.


A large
number of working executives (59 per cent) felt women were equal partners in
office romances with many even initiating affairs, the survey said.

A high number of executives
(56 per cent) were clear on the issue that organisations should not interfere in
romantic involvement between employees.


Overall, 16 per cent of those
polled admitted to have been romantically involved with their office colleagues.

The survey comprised
respondents belonging to top 500 companies in India. The questionnaires were
administered to employees in Delhi, Mumbai, Bangalore, Kolkata, Pune, Chandigarh
and Hyderabad.
Via Times of India