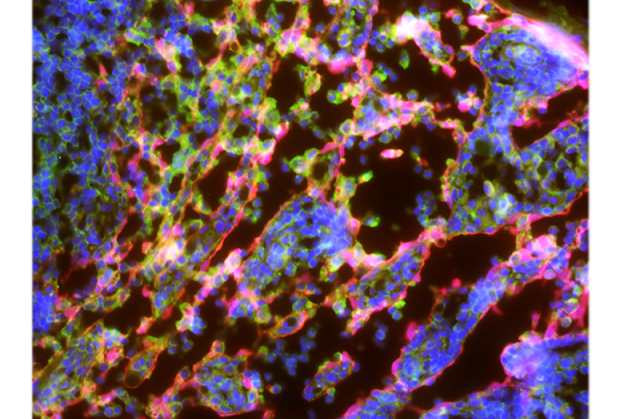 Immunofluorescence of a lymph node shows lymphatic endothelial cells contain the enzyme (labeled in green) that generates 3HKA. Image courtesy of Dr. Laura Santambrogio.
A powerful immune-suppressing molecule produced by the body may hold the key to better treatments for autoimmune and inflammatory diseases, as well as for some cancers, according to a study by researchers at Weill Cornell Medicine and the University of Perugia.
In the study, published July 21 in Nature Communications, the researchers described the properties of the newly discovered molecule, called 3-HKA. They showed that in immune cells called dendritic cells 3-HKA is produced from the amino acid tryptophan and can protect against inflammation in animal models of the skin disorder psoriasis and a degenerative kidney condition called nephrotoxic nephritis.
"Right now, there is an acute need for new ways to treat autoimmune and inflammatory diseases, and we are very excited by the possibilities opened up by the discovery of this potent molecule," said study co-senior author Dr. Laura Santambrogio, who is professor of radiation oncology and of physiology and biophysics and associate director for precision immunology at the Caryl and Israel Englander Institute for Precision Medicine at Weill Cornell Medicine.
Continue reading…

"Scientists Discover a Powerful Natural Immune-Regulating Molecule"