Printed vitamins.

Normally we do not cover topics related to cosmetics, being a website focused on the more industrial, loud, and explosive applications of additive manufacturing.
But we are interested in production-grade 3D printing, as well as AI, computer vision, and computer software. And this new story from cosmetic giant Neutrogena has all of those components, so we'll cover it.
Read on to find out how we let an AI pass judgment on this writer's face skin!
Neutrogena
It's CES 2023 week which means we will be seeing plenty of stories of interesting new innovations saturating tech websites. And it is at this year's CES where we find our first additive manufacturing story of the new year.
At the show, Neutrogena announced the release of their new product, dubbed the Skin360 SKINSTACKS, which comes in the form of a custom 3D printed vitamin gummy. The gummies are printed by Birmingham (UK) based supplement printing company Nourished.
The customization method is a three-step process that requires the customer to scan their face with an app, which then uses AI to judge the condition of their face before selecting a combination of vitamins which are said to offer the best solution to whatever your skin problems are.
This sounds both interesting, and potentially horrifying at the same time.
So guided by grim curiosity, and because this writer has never been insulted by an AI before, we decided to give it a go. 
Step 1: Scanning the Face
In order to produce the custom gummies, customers first log into the SKINSTACKS web app, which then asks the user to position their head into an AR overlay on the screen.
The app then takes a photo of the face, and within the blind of an eye, tells you how bad your skin is. Feeling old and haggard after the New Year celebrations, I was expecting to score badly.
I was not expecting to score an 8/10. This was the first indication that the app is broken, or that the quality of the AI training data was probably not of a premium standard.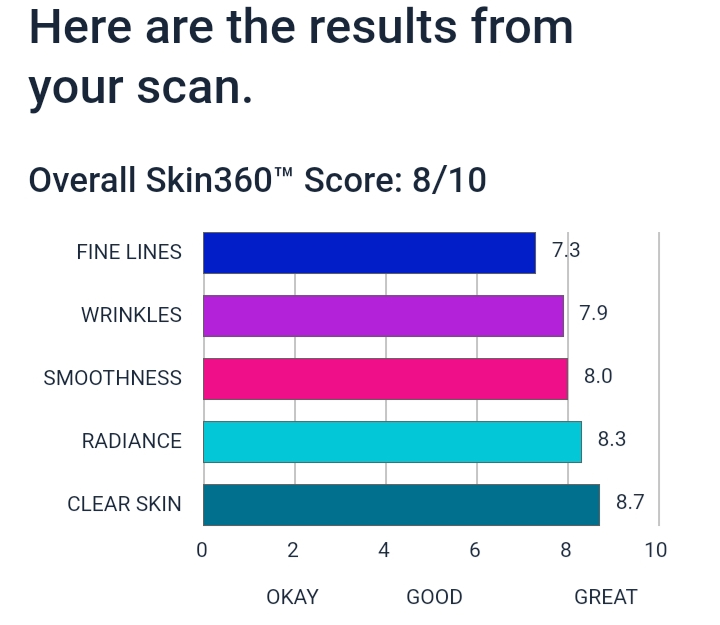 In fact the web app,which utilizes the existing Neutrogena Skin360 smartphone app measures the skin by analyzing 2,000+ facial attributes and 100,000 skin pixels. It instantly generates a Skin360 Score (pictured above) based on dark circles, wrinkles, fine lines, and more.
Apparently I have clear skin and I am radiant. 
In fact the results are based on the analysis of more than 10,000 faces, including different ages and ethnicities.
It is worth pointing out that I was not asked for my date of birth at any point of the process, so one wonders how it is ranking how good the skin is, and compared to what?
I would say I have good skin for a 60 year old, but terrible skin for an 18 year old. How many wrinkles are the right amount for a 40-something male? 
We digress. On to step 2.
Step 2: Goals
Advancing onto step 2 on the app, and the user is given the option to state what their desired "skin goals" are. 
First, it asks what the "Primary Skin Goals" are.
I have never had a skin goal before, so I follow its advice and opt for fewer fine lines.
It should be noted that I was not aware that I had any fine lines until the app had cast its judgment. One assumes that this is how Big Cosmetics gets you!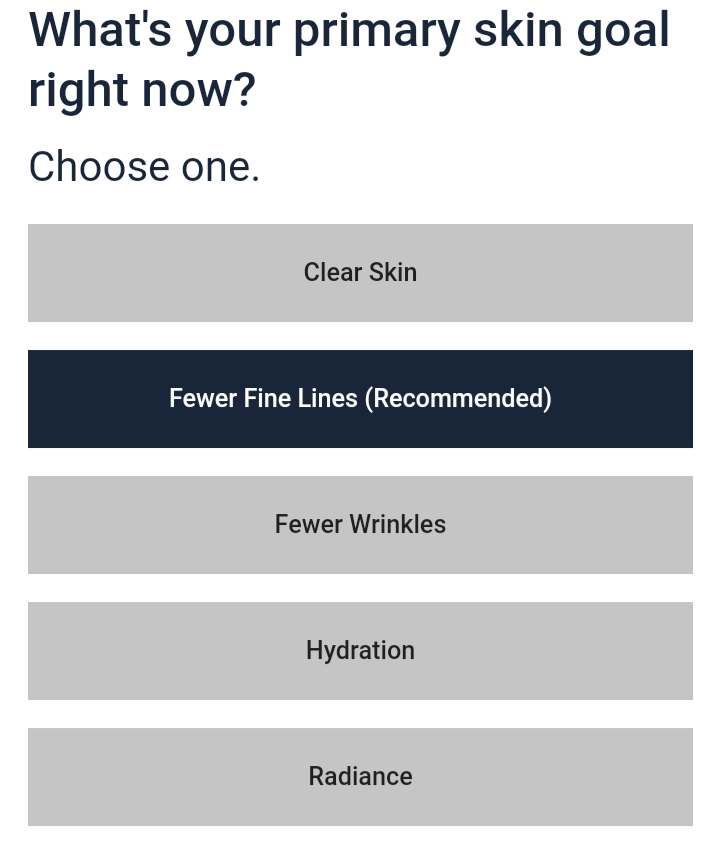 Moving along to the next screen, the app asks what the additional goals are, and provides a list of skin conditions that may be of concern for the user. 
As I scored high for radiance and clear skin, and only flunked on fine lines (that I was not aware existed), I selected anti aging. Because if I can eat a gummy and become youthful, then why not?
Step 3: Questionnaire
Advancing onto stage 3, the app asks a few questions about lifestyle, skincare regime, and other environmental factors.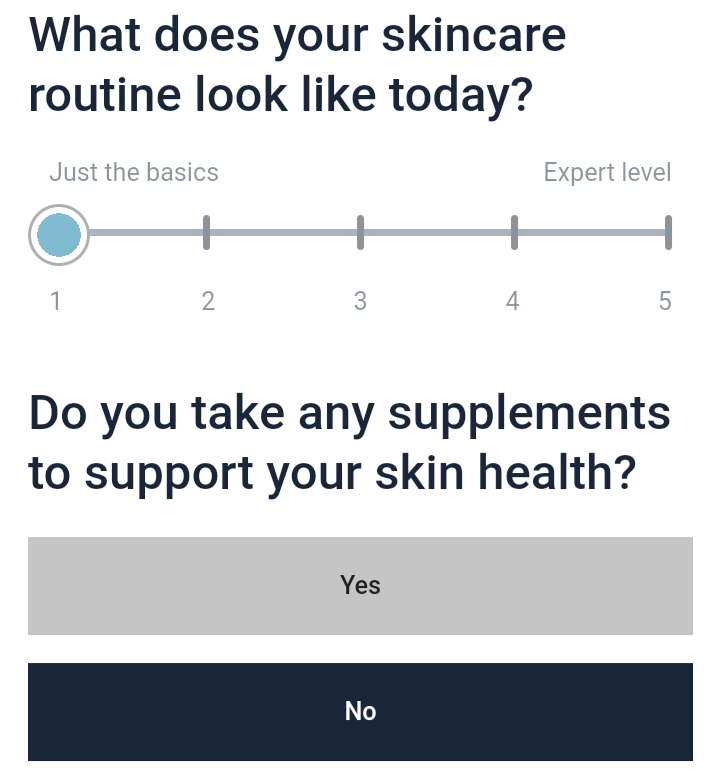 I live in the arid desert, and I have no beauty regime except washing my face with cold water, and drinking coffee. The weather is scorching for the most part, and the air is dry.
I enter my details as instructed, and await my custom judgment and custom SKINSTACK gummy solution.
Gummy Ingredient List Reveal
Now that the three steps are complete, a recommendation is displayed on screen advising me that for fewer lines, I might like to try the Ageless SKINSTACK, and it provides a list of the vitamins and other ingredients that will be 3D printed into my gummies. 
At the bottom, it shows the price which is $49.99 for a box of 28 gummies (with free delivery).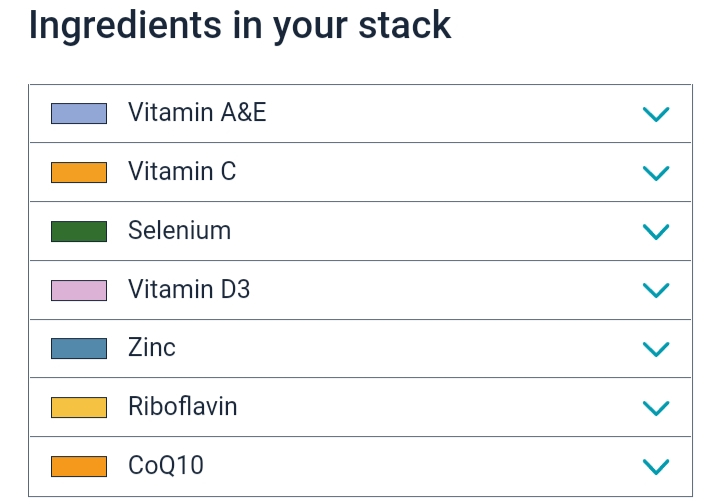 Should I click on the purchase button, my order would be whisked off to the Nourished factory, where my gummies would be 3D printed according to my recommendation and shipped off to me. 
At the exact same time, I was also sent a notification to my email box telling me that as I rated a solid 8/10, I should keep up the good work and remain consistent in my skin care regime.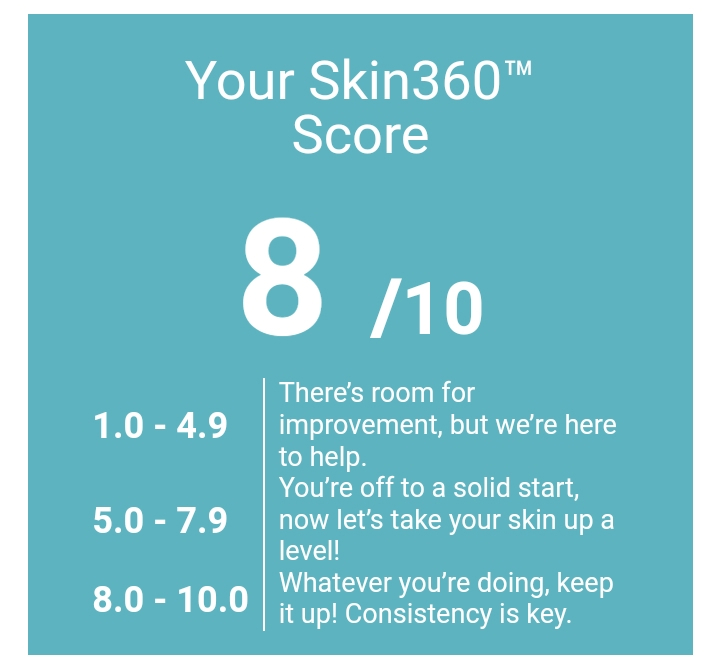 I have no skin care regime whatsoever. 
In fact, you would more accurately refer to it as a "don't care regime", but I am not one to argue with science, and so I decline to make the purchase. Consistency is key, afterall.
Conclusion
This writer firmly believes that the cosmetics and supplements industry is largely a racket, designed to milk people of their hard earned cash by drumming up their inner insecurities – hence why this article is part light-hearted goof, and part cynicism. 
It was 100% driven by curiosity though. But now the curiosity has been satisfied, what is the conclusion?
Well, for a start, it was a fun and novel experience.
From the use of computer vision in the smartphone, the AI-assisted comparison of thousands of faces in the background, the usability of the app, to the final 3D printed product, it is all combined into a tidy package.
So regardless of whether I think spending nearly fifty bucks on a box of "anti-aging gummies" is worth it or not, kudos should be given to Neutrogena and their partners for making highly customized 3D printed products easy to order. 
The whole process and platform is definitely a value-added product in itself.
Let's hope we see similar applications put to use in other customizable printed products in future.
You can try the app for yourself over at this link.